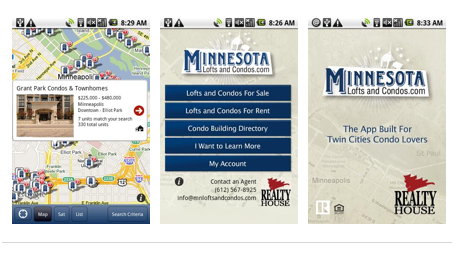 Screen shots of the Minnesota Lofts and Condos Android app
The new Android app is GPS-enabled and designed to make the Twin Cities loft, condo and townhome search more convenient and easy.  Created by The Ashbury Group as an extension of the website MinnesotaLoftsandCondos.com , the Android app comes on the heels of the successful launch of its lofts and condos app for the iPhone.
Since 92 percent of smartphone Internet use in the United States is on the Android, BlackBerry, or iPhone platforms, the Asbury Group now offers apps on two of the three major smartphone platforms. The group's Android and iPhone apps are the only ones in Minnesota that are built exclusively for people in the Minneapolis-St. Paul loft, condo and townhome market.
In a press release, the Ashbury Group explains the app was built with loft and condo buyers in mind and includes a database with profiles and detailed information on more than 2,500 condos, lofts and townhomes. The free Android app taps into the website and was created to stay current with the demands of those who want to use their smartphones to search for properties and learn more about them.
The website and app are linked so if users save a favorite property to their phone, they can go back later and check it out on the website.  One of the challenges of using smartphones to search the urban market is the sheer number of properties available. The app addresses that issue by showing users icons of the buildings the properties are in, rather than each property. By clicking on one of the icons, users can see individual units within a property for sale or rent.